WOOD BAT WARRANTY
MaxBat, Inc. prides itself on the quality and performance of its products, which not only meet, but also exceed industry quality and durability standards. However, all wood bats are subject to fatigue and a possible breakdown over time.
MaxBat, Inc. offers a one-time replacement for Pro Series or Pro Player Signature Series adult wood bats that failed due to a manufacturing defect.  MaxBat will not replace bats that failed due to user error.  Examples of user error that are not covered under the MaxBat wood bat warranty:
Hitting dimple balls or anything other than a baseball.  This includes hitting the bat against the ground, home plate, fence, etc.
Balls that are batted outside of the sweet spot, particularly balls that are hit towards the logo or off the end of the barrel
A cracked, chipped or dented cup that does not affect the integrity of the bat. Once a warranty claim has been filed, MaxBat will require pictures to be sent as proof.  In some cases, the bat in question will need to be returned to MaxBat for inspection.  The customer will be responsible for all return shipping charges.
To initiate a claim, please send an email to info@maxbats.com with the word "Warranty" in the subject line.  You will be contacted by MaxBat personnel regarding the next steps.
YOUR CUSTOM BAT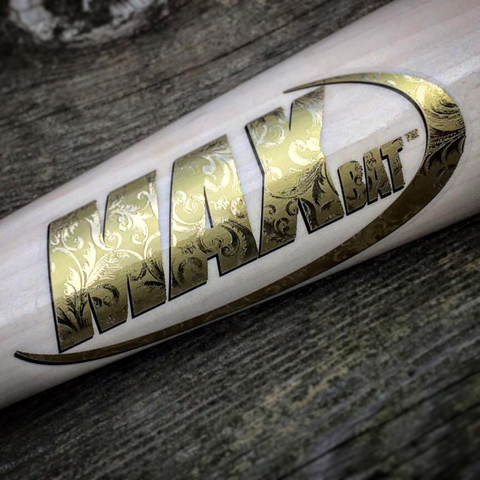 Due to the custom nature of our wood bats, and the fact that you are ordering a wood bat made completely to your exact specifications, orders cannot be canceled for any reason. Each of our wood bats is made to the customer's choice of model, wood species, length, weight, color combinations and name personalization. Therefore, once our lathe knives touch the wood bat blank that is destined to become your bat, your order cannot be altered, changed, or canceled.
Order your wood bats early. It's wise to factor in 2-4 weeks of turnaround time when placing your order. With the high demand of our wood bats, turnaround time varies with each month. At different times of the year, it may take less or more time depending on professional and amateur league demands. With that said, you may want to also consider ordering more than one MaxBat, one for batting practice, one for games, and a spare... just in case. You will also save on shipping and handling when ordering more than one.
Remember, our MaxBats are made from the finest Rock Maple or Yellow Birch on the planet. We meticulously select our wood billets to produce only the best possible wood bats on the market, our company philosophy is better wood makes a better bat. We take precise measurements of the density of the wood we use, and carefully match the best wood for the particular model of bat we are about to make. Extraordinary care is taken in the turning and shaping and finishing of each wood bat. The result is a harder and more durable bat that more and more professional and amateur baseball players are calling "theirs".
BAT CARE TIPS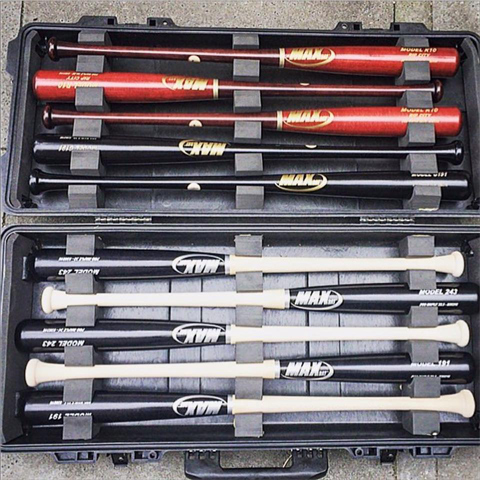 Because we take so much care when we make your Rock Maple or Yellow Birch bat, we want to make sure that you know how to make it last:
Never ever throw your bat. MaxBats were not meant to be thrown, nor is any other piece of equipment except the baseball.
Thin handled wood bats are not always your best option. The thinner the handle, the less mass it has. The majority of our wood bats feature a handle diameter of 15/16" for feel, and strength, and it's what most professionals want.
Practice with soft toss and tee work when you first use your new MaxBat. This will help train your eye to ensure proper contact with the ball when facing live pitching.
Always position the bat in your hands so the MaxBat logo is facing you (up), or that the logo is on the opposite side facing away from you (down). We take great care to place our MaxBat logo on top of the grain to ensure that when a pitched ball is struck, you will make contact with the bats strongest surface. The positioning of the label will help you find the "sweet spot" on your bat. Hitting the baseball squarely on the sweet spot will help you reach the fences.
Don't leave your bat in the trunk on a hot day. Your car can become an oven. High heat can bake the moisture out of your bat causing it to become brittle. Long periods of exposure to heat is not good for any bat. This is why you want to avoid purchasing a bat from a sporting goods store window. Bats are like people, we want to be comfortable, not hot or cold.
Don't hesitate to send us an e-mail at info@maxbats.com with any of your questions. We love hearing from you.
Unfortunately there are no guarantees with wood bats. But the better you can take care of your bat, the longer it will last.